Who Am I?
Hi, I'm Georgina and welcome to my website. I am a Practitioner of Time-Line Therapy and Neuro-Linguistic Programming (NLP), Clinical Hypnotherapist and Rapid Transformational Therapist (RTT). I am a Motivational and Personal Development Coach based in Southampton.

I help individuals break free from bad habits, fears, negative thinking patterns that keep us trapped and stuck in relationships, career, a job you don't like and have lost motivation and drive for.

I'm passionate about helping you find the confidence, strength and courage to believe in yourself, find the motivation to have a new sense of purpose and passion to start living a more authentic life.
My Story
For years I struggled to find a new way and kept falling back into the same old patterns. After living most of my life with anxiety and low self esteem, I had no idea what my life purpose was until I got a calling back in 2004, which resulted in me making a new career change to where I am today.

Having always been passionate about human psychology, I would give lots of my time helping friends, always reading self-development books... I started working with a Life Coach and I realised that I had a real passion for people and cared deeply about helping them to make changes. I studied hard, faced my biggest fears that were holding me back and reinvented my life and career after 21 years working in the corporate world in Recruitment, whilst bringing up two sons on my own.

I founded my company I Love Life Therapies in 2005, after qualifying as a Holistic Therapist. I loved doing my training, it was wonderfully satisfying, knowing that I had made a positive difference in a person's emotional state. Aromatherapy massage was my niche, combining a unique combination of pure aromatherapy essential oils to help clients reduce stress, calm emotions, relieve anxiety and increase their general sense of health and wellbeing.

In 2010, I was seeking to understand myself more and wanted to understand more about the human mind, visualisation and affirmations. I became a Heal Your Life Workshop Facilitator and Coach, I was fascinated by the insight into the relationship between the mind and the body. Exploring the way that limiting thoughts and ideas control and constrict us. One of Louise Hay's philosophy's "When we really love ourselves, everything in our life works" how true is this. Through this inspirational work, I supported and encouraged others to shift consciousness.

In 2013, I was eager to learn more, an opportunity arose for me to train with Inspire 360, it really got me excited and inspired great changes on a personal level as well as working with clients to create change. I became a Practitioner in NLP, Hypnotherapy and Time-Line Therapy. This is where I absolutely fell in love with the incredible benefits of Hypnosis, bringing this into my private practice alongside coaching and getting great results, moving clients toward therapeutic change.

My drive to want to do more for my personal development bought me back to my yoga roots after a back injury, where I ended up in a wheel chair and a few years of chronic pain that no medicine would work to take it away. The mind and body are often treated as separate entities, working on mental pain that is showing in the body, I have healed and no longer have a back issue.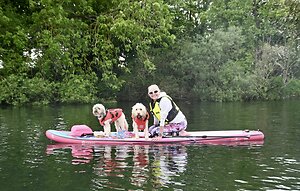 Combining Passion and business
With 15 years yoga experience and 7 years paddle board experience, I found my passion for paddleboard yoga when my fiancé Enrico bought our first paddle boards. Never mind standing up! I naturally started doing yoga poses. The support of the board felt calming and gave me a sense of being rocked, loosening all the muscles and nerves. Little did I know that this was going to be the start of an adventure and getting others addicted.

Southampton SUP Yoga Centre has grown organically, combining passion and business, allowing my fiancé and I to work as a team. As a result, we combine all our professional experience and teaching modalities including, life coaching, hypnotherapy, breath-work, yoga for backs and posture, mindfulness and meditation.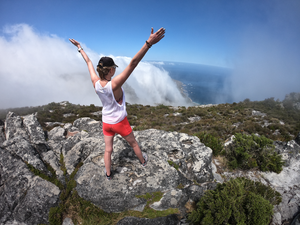 My Why
I believe that through my life experiences, struggling to get on through some very traumatic times, I have a deep understanding and empathy to help people, not only through difficult times, but to find As I have evolved, found my purpose through personal development, facing my fears, working through emotional and physical pain… I'm proud to say that I have created and living the lifestyle that I dreamed of.

I have successfully worked with 100's of clients from all walks of life. I believe that when we make a mental decision to want to change and take action, it creates a snowball effect opening up new possibilities and opportunities in all areas of our lives. Being able to see things from both sides of a situation allows me to bring a flexible approach as an experienced coach.

If you are uncertain about your path ahead and your goals, I can help you unlock those blocks to inspire you on a journey no matter what you want to achieve. Just know that your life will immeasurably change for the better! I am here to help support and inspire you to awaken to new possibilities.

Georgina x

Qualifications
Pet Bereavement Counselling - 2022
Certified Clinical Hypnotherapist - 2017
Rapid Transformational Therapist - 2016
Certified Practitioner of Hypnotherapy - 2013
Certified Practitioner of Neuro-Linguistic Programming (NLP) - 2013
Certified Practitioner of Time-Line Therapy - 2013
Qualified 'Heal Your Life' (Louise Hay) Workshop Facilitator - 2010
VTCT Level 3 Diploma in Non-Medical Nutritional Advice - 2004
VTCT Level 3 in Holistic Therapies - 2004
VTCT Level 3 in Anatomy - 2004

Yoga Teacher Training - The British School of Yoga
Yoga for Healthy Lower Backs
SUP Yoga Teacher Training
Trauma Sensitive Yoga
Professional Membership
Member of the CThA (Complementary Therapists Association)
Member of the Association for Coaching
Insurance
Fully Insured with an Enhanced Criminal Record Certificate (DBS)